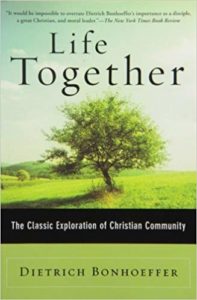 The Atlantic Mission Region of the North American Lutheran Church (NALC) would like to invite you to the 1st annual pan-Lutheran Theological Conference to be held at Zoar Evangelical Lutheran Church in Lebanon, PA on Wednesday, September 11, 2019.  Bishop Carol S. Hendrix will be our presenter.  She will be discussing Dietrich Bonhoeffer's book Life Together.  Registration, refreshments and fellowship will be at 9 AM with the Conference commencing at 9:30 AM.  Lunch will be included in this day-long event which will conclude around 3:30 PM.  A schedule of the day's events will be available at the door.
Please read Life Together before you attend and bring any questions regarding the material for Bishop Hendrix or any thoughts or insights.  Also please bring along a copy of the book for reference and for any note taking.  Copies of the book are available at Amazon.com (click here)
The following link provides you with the GoogleMaps location for Zoar, which you can use to get directions to the church from your location: https://goo.gl/maps/fttt6izFUi7cq1RaA  We will be meeting in the Fellowship Hall across the road from the church.
There are two ways to register for the Theological Conference:
Send an e-mail to rjhh67@verizon.net and attach a PDF copy of your completed registration form to your email. If you email your registration then payment must be received by September 1 to reserve your spot.
You can mail the completed form(s) and payment to:
Robin Harris, Registrar
1800 Oak Street
Lebanon, PA 17042
REGISTRATION FEE:  $20/person (please make checks payable to AMR of the NALC)
LODGING REGISTRATION DEADLINE (to lock in the group rate at the hotel of choice):  AUGUST 10
For lodging information click here
REGISTRATION DEADLINE:  SEPTEMBER 1